Tolix Stool Galvanised with Wood Teak Seat
Our designer vintage kitchen bar stool adds a new element to the Tolix replica stools with the addition of a natural Teak wood seat. This vintage kitchen counter stool updates the French country look that is pure modern vintage.
Height:

65cm

Seat width

30cm

Colour:

Galvanised

Material:

Galvanised Steel

Seat:

Solid Teak Timber

Assembly:

None

Stackable:

Yes, up to 8 high
Our Tolix style line of reproduction furniture offers a huge variety of colour and style choices to help you find the perfect piece for your next design project. Shown here is our Tolix replica vintage kitchen bar stool in its natural, galvanised steel finish with the addition of a natural teak wood seat.
This piece is made with attention to the original but features a design update that makes our replica a real standout - the warm and rich looking teak wood seat. Put this inspired kitchen bar stool at your counter for a modern European feel. Whether your style is rustic, vintage, classic French country or eclectic, this kitchen bar stool will breathe new life into your space.
Tolix style stools go all the way back to the 1930's but have been a lasting part of the design scape owing to their absolutely classic and iconic feel. Pieces like these are impervious to the changing trend because they are timeless. Pair these kitchen bar stools with any of our Tolix style dining chairs or table height stools for a coordinated look. Use these stools in your kitchen or put them outdoors, these vintage inspired pieces are built to last.

WE RECOMMEND THIS PRODUCT AS A GOOD MATCH
YOU MAY ALSO LIKE
Dining Chairs
Floor Lamps
Tolix Stool Replica 65cm Teak Timber Wood Seat Xavier Pauchard - Galvanised
IN STOCK DISPATCHES within 48 hours
Check your freight cost
PLEASE NOTE: Relaxhouse only sources high end premium quality furniture from around the world.
Products in other stores and websites often use materials that are of a lesser standard, lesser quality & lesser build.
This is why we don't only sell online, we also have a huge showroom in Melbourne where you can touch and feel the range if you need to. Nothing to hide here! Buy online or instore. It's easy!
We realise you have a large choice of merchants to purchase from. We ensure that buying from us will be the best decision you make this week, or any week!
GET IN TOUCH

Free call: 1300 307 164
ABOUT THE ORIGINAL DESIGNER
Xavier Pauchard (Burgandy 1880-1948)
Xavier Pauchard was born and lived among the innumerable pine forests of the Morvan in the heart of Burgandy France.Pauchard was a roofer-zinc worker like two generations of men before him.In the period following World War I, Xavier Pauchard founded a company that manufactured galvanised steel domestic goods in the nexus of a land where wood ruled. His company flourished as his household products came to embody modern comforts and were widely sought after.
Learn More about Xavier Pauchard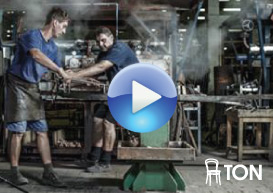 TESTIMONIALS
Put these in the kitchen and they look great at the breakfast bar. These stools are a real find at this price and the mix of steel and teak looks great.
My kitchen looks so great. We had updated the kitchen to a French country style about six years ago but our stools had not worn well and looked really shabby. I replaced the yucky stained stools and I have a whole new kitchen. I love the upholstered stools but really for a kitchen they were hugely impractical, I think with kids and such, these will be a much better choice.

GET DEALS, NEWS, COUPONS
CONNECT VIA Google+
CONNECT VIA EMAIL
Google+