Philippe Starck Prince Aha Stool Replica - White
Replica Philippe Starck Prince Aha Stool. Made from a batch-dyed polypropylene hour glass molding for a durable and solid result - White
Seat height:

45cm

Diameter

30cm

Colour:

White

Seat Material:

Polypropyrlene

Leg Material:

Polypropyrlene

Assembly:

N/A
Our replica Philippe Stark Prince AHA With its hourglass shape & solid construction stool a very versatile piece. For the budget minded modernist, we offer this subversive, playful piece that can stand in as a stool, a side table, even a footrest. If you inhabit a small space, you probably have to think carefully about each piece you bring into your home. At Relax House Furniture we have been rethinking the way we use space too. Space is valuable, limited and we're constantly searching for ways to make the most of it. Flexible furniture like our replica Starck Aha stool is a great way to maximize your living space.
Use it as a stool, a side table, a useful place to rest your remote, an entry way table for your keys and sundries.No one deconstructs traditional form like French born artist Philippe Starck. A pioneer of modern furniture design, Philippe Starck has broken boundaries with his daring minimalist designs. Starck's Prince Aha Stool (1999) erased the distinction between seat and base, each becoming the other when turned upside down. Our high quality replica Philippe Starck Prince Aha Stool is constructed from batch-dyed polypropylene.

WE RECOMMEND THIS PRODUCT AS A GOOD MATCH
YOU MAY ALSO LIKE
Dining Chairs
Bentwood Furniture
Philippe Starck Replica Prince Aha Stool - White

Not Available (discontinued)
PLEASE NOTE: Relaxhouse only sources high end premium quality furniture from around the world.
Products in other stores and websites often use materials that are of a lesser standard, lesser quality & lesser build.
This is why we don't only sell online, we also have a huge showroom in Melbourne where you can touch and feel the range if you need to. Nothing to hide here! Buy online or instore. It's easy!
We realise you have a large choice of merchants to purchase from. We ensure that buying from us will be the best decision you make this week, or any week!
GET IN TOUCH

Free call: 1300 307 164
ABOUT THE ORIGINAL DESIGNER
Philippe Starck (Paris 1949-)
Philippe Starck is many things: a living legend, a school dropout, a crazed inventor, an imaginative magician, a design popstar, and a romantic philosopher. Starck has put his particular brand of pizazz on posh New York hotels, a Eurostar train, the private residence of the French president, a personal power-generating windmill, countless chairs, a mass produced citrus-juicer and perhaps, eventhe toothbrush in your bathroom.
Learn More about Philippe Starck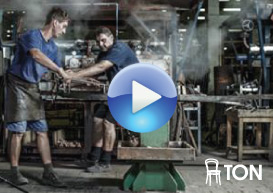 TESTIMONIALS
We needed a few pieces to round out our vacation rental. The problem was, we want it nice because we spend a lot of time there but we rent it out and don't feel comfortable spending a lot of dough on things in case a renter trashes something. We bought a few chairs and such from you and it is the right price and very sharp looking.
I was given this as a gift and came back today to order another for the other side of my bed. I just adore this table.

GET DEALS, NEWS, COUPONS
CONNECT VIA Google+
CONNECT VIA EMAIL
Google+